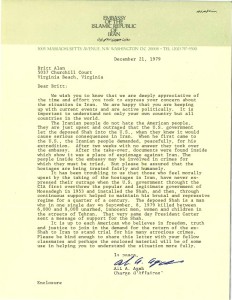 Islamic Republic of Iran Propaganda
Click the underlined link to download the original propaganda material sent to me by the Islamic Republic of Iran in 1979, in response to my letter protesting the Iranian hostage crisis when I was eight years old.
––American Delegation in Tehran Expresses Support for Iran propaganda from the Islamic Republic of Iran, circa 1979
—Campaign of Intimidation and Victimization of Iranians in the U.S. propaganda from the Islamic Republic of Iran, circa 1979
Understanding the World of Islam
—What Price the Ex-Shah? propaganda from the Islamic Republic of Iran, circa 1979
If you are a fan of #thrillers, here are some great resources, organizations and conferences I recommend:
#thrillers & thrilling times My paper devoted to #thrillers and thrilling times news.
International Thriller Writers  is an incredible organization that brings together amazing authors. I've learned a lot and begun great friendships. If you are an author or fan of Thrillers take a look, and be sure to attend ThrillerFest each July!
Sisters in Crime is a great organization with tons of support for aspiring writers and established authors alike. Yes, even a guy can be a Sister!
The Mystery Writers of America is the premier organization for mystery and crime writers, professionals allied to the crime writing field, aspiring crime writers, and folks who just love to read crime fiction.
 The Kill Zone blog hosts insider perspectives from top thriller and mystery writers, including my friend, best selling author of the Jonathan Graves series, John Gilstrap. Check it out!
Blood on the Bayou 2016. 'Nuff said.
Killer Nashville A place for thriller, suspense, mystery writers and literature lovers. The annual Killer Nashville International Writers Conference is a must attend!
If terrorism, counter-terrorism, espionage and world affairs interest you, here is a listing of some WEBSITES I recommend to stay current and conduct research.
Center for Strategic and International Studies
National Security Branch, Federal Bureau of Investigation 
Counter Terrorism Center at West Point
Stratfor – 20 Years of Global Intelligence
The BOOKS below are ones that I have found, or have been recommended by others as valuable reads to stay current and use for research. The books are linked to the Good Reads site. If you have any suggestions for me too add to the list, please let me know through the CONTACT link. Thanks!
Story Trumps Structure by Steven James
See No Evil by Robert Baer
The Bureau: The secret history of the FBI by Ronald Kessler
Legacy of Ashes: The history of the CIA by Tim Weiner
The Reign of the  Ayatollahs:  Iran and the Islamic Revolution by Shaul Bakhash
Ghost: Confessions of a Counterterrorism Agent by Fred Burton
The Watchers: The Rise of America's Surveillance State by Shane Harris
Gideon's Spies: The Secret History of the Mossad by Gordon Thomas
Killer Elite: The Inside Story of America's Most Secret Special Operations Team by Michael Smith
The Sayyid Qutb Reader: Selected Writings on Politics, Religion and Society Edited by Albert J. Bergesen
Horse Soldiers: The Extraordinary Story of a Band of US Soldiers Who Rode to Victory in Afghanistan by Doug Stanton
The Black Tulip: A Novel of War in Afghanistan by Milt Bearden
Inside Delta Force: The Story of America's Elite Counterterrorist Unit by Eric Haney
Kaboom: Embracing the Suck in a Savage Little War by Matt Gallagher
Shia Revival: How Conflicts within Islam Will Shape the Future by Vali Nasr
Dark Heart: Spycraft and Special Ops on the Frontlines of Afghanistan – and the Path to Victory by Anthony Shaffer
The Triple Agent by Joby Warrick
Black Ops: The Rise of Special Forces in the CIA, the SAS and Mossad by Tony Geraghty
The Secret History of MI6 by Keith Jeffery
No Place to Hide: Edward Snowden, the NSA, and the U.S. Surveillance State by Glenn Greenwald
Enemies Within: Inside the NYPD's Secret Spying Unit by Adam Goldman & Matt Apuzzo
Is My Cell Phone Bugged?: Everything You Need to Know to Keep Your Mobile Conversations Private by Kevin D. Murray
All the Shah's Men: An American Coup and the Roots of Middle East Terror by Stephen Kinzer
The Terrorist's Son: A Story of Choice by Zak Ebrahim with Jeff Giles